PCB's Acoustic Measurements Products are used by manufacturers of power tools, audio equipment, and a wide array of consumer electronics. They choose PCB microphones because we have the right microphone for the job and our outstanding product quality, performance and unsurpassed service and competitively priced products.
Consumer Product Acoustic Testing with PCB® Microphones
 Download our Microphone Handbook 
Whether you are taking general sound measurements, performing sound power testing or doing noise source location testing we have cost-effective, acoustic sensors that will help accurately capture the measurement data you need…the first time, every time.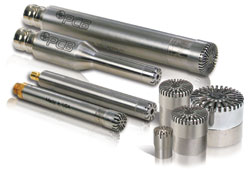 A full range of 1/2" and 1/4" precision microphones, array style microphones as well as  specialty microphones such as the surface and probe microphones are specifically designed for your challenging acoustic measurements. Microphones  most frequently use for consumer product testing are:
1/2" Free-field microphone and preamplifier system, model 378B02 with TEDS
1/4" Array microphone, models 130A23,  130E20, 130E21 and 130E22 all with TEDS
Acoustic Condenser Microphones
Precision measurement microphones with the performance you demand, unbeatable prices, 24/7 support, best warranty, and fast shipment
When you need a microphone for product tests such as sound power, sound quality, noise source location, there's no need to compromise quality and performance for a great price.
With 100% of its microphone manufacturing in-house, PCB Piezotronics provides condenser, modern prepolarized, traditional externally polarized, array, probe, low-profile surface and other specialty purpose microphones, preamplifiers and accessories.
For more information about PCB®'s acoustic products, download the "Acoustic Measurement Sensors & Instrumentation" brochure here.
For more technical information please click here:
For local support requirements please contact our sales:
Sagi Dagan
Tel: 074-7155026
Mobile: 054-6349165